How long does it take to produce a corporate video?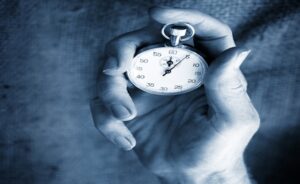 We've noticed a time warp. Clients contact us wanting a complete video made from concept to final delivery in what seems to them like tons of time, but it sounds like tomorrow to us. We realize this disparity in perceptions comes from our clients not always knowing all the steps that will go into creating their products. So here's a quick overview of what to expect in the process of working with a video production company to create your video:
Pre-production
Everything that goes into planning your shoot before the camera starts rolling…
Timeline: Generally 2 – 6 weeks, depending in part on how fast your team responds
The team: The Account Manager will take care of the commercial details to ensure it all rolls along smoothly. She'll also introduce you to the writer who will plan out your shoot, and the producer who will keep your project on track.
Concept: If you already have a concept and shooting script ready to go, perfect! Otherwise, our writer will start by talking with your marketing or communications person to establish the most important points your videos need to get across to potential clients.
Research: Then the writer's work might include visiting your premises, meeting your team on the phone or in person, reading up to understand the technical aspects of your product or service, casting actors or spokespeople, and pre-interviewing the people who will appear in your video to help us gather 'clips' to write the script. Pre-interviewing can also flag any people who may have difficulties communicating on camera.
Scripting: With the research done, our writer will craft a shooting script that will become the blueprint for your video. It will show you the overall look and feel of the video, describe the images you'll see, outline what people will say, along with how and where they'll say it. We'll send you this script for your approval and then make any changes you request.
Storyboarding: Some videos, like testimonials, are pretty straightforward, so they won't need this step. But the more technically complex shoots may also require storyboarding, where we'll sketch out a visual mock-up that looks something like a cartoon strip of your video, drawn-out scene by scene.
Coordination: This is where your producer sets up the shoots, getting permission to film at certain locations, renting a studio to film in if needed. The producer will also be lining up people for their interviews, scheduling the film crew and renting any specialized equipment. Some companies may have a communications person to assist with this.
Production
The part of the process where we film your project
Timeline: ½ day to 3+ days (depending on your script/ concept)
Production: This is what everyone has been waiting for: the cameras roll! It might need a half day's time (up to 5 hours of shooting) or it may take 1, 2 or more days, depending on the number of locations and scenes your video's concept requires. Your crew may vary from 2 to 4 or even more people, depending on whether you are incorporating actors, multiple cameras, a teleprompter, etc.
Post-production
The final stage, where we edit the images and sound into your finished video
Timeline: 2-4 weeks depending in part on how fast your team responds
The first edit: Within 5-7 days, your team receives a First Edit to review. We normally suggest companies take 3-4 working days to come back with their feedback, suggestions and comments.
The second edit: We take your feedback and give you back a revised Second Edit 2-4 days later. This version will have all titles and graphics in and look very close to the finished version. We normally suggest companies take 2 working days to come back with their feedback, suggestions and comments.
Picture lock: Within 2-3 days, you'll have your Picture Lock. This is your chance to take a final look, ensuring there are no last errors or typos. We suggest companies take 1-2 days for this final review.
Sound mix and colour correction: Here's where we spend 2-4 days adjusting all the music and voice levels for perfect sound, and correcting colours and saturation levels so the visuals really pop. Then we make your outputs in whatever formats you need.
Delivery: Your videos are delivered in high resolution & web-ready formats. Lots of joy and happiness all around!
This is a general overview of a typical project. But maybe your project is a rush job. Or perhaps your video has special requirements, like animated sequences or multiple language versions. Production companies will normally custom build schedules for each project. Contact us if you'd like to talk about your specific needs and delivery schedule, and we'll help you chart out your project's timeline!