Adapting to Working From Home
INTRO
The COVID-19 virus has overtaken the news cycle, becoming the centre of many of our personal and professional conversations. We understand that many of your organizations and businesses have been greatly affected. We're receiving emails and calls from our partners and clients, asking if we can continue to work together through this. The answer is a resounding yes! Here's a quick update of how we're adapting to the COVID-19 pandemic and its challenges, and how we can continue to provide you with the video your organization needs immediately and over the coming weeks.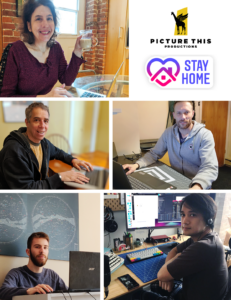 FLATTENING THE CURVE…
Picture This team members are keeping safe and working remotely from home.
All filming that requires our crews to go on location is postponed.
…WHILE KEEPING PRODUCTION ROLLING
But even without filming on location, there are still so many ways to keep making videos! We continue to offer our full range of in-house services including:
project conceptualization and development
scriptwriting
voice-over recording
multi-language versioning
2D animation
filming your products in our studio
editing your existing or pre-shot material
screenshot explainer videos
and many other post-production services.
We're also available by phone or email to answer any of your questions or to give you an estimate for upcoming projects.
AND IF YOU ARE LOOKING FOR SOME SMART ESCAPIST VIEWING…
…we have a few recent productions from our TV unit you should check out:
Do you like your documentaries short and sweet? Our series Seen & Heard is available in eight short episodes for Canadian viewers at CBC Gem and on YouTube for everyone else! Take a dive into the personal dramas that unfold when aspiring Deaf and hearing amateur theatre people unite to put on a show.
And while it won't get you fit, our arm-wrestling docu-series Arm Nation will get your heart racing! Stream this entertaining series on Amazon Prime and APTN's Lumi.
KEEP IN TOUCH
We're all figuring out how to adapt indeed.  If you want to discuss anything, contact us. Also, please continue to take care of yourself and each other.