Campaign for Concordia University Part 2!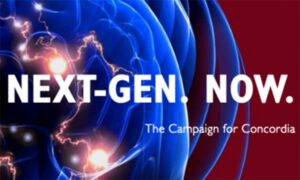 Aiming to raise $250 million dollars!
Over the past few months we've been once again working with Montreal's Concordia University, this time on their "Next Gen. Now. The Campaign for Concordia". It's the university's most ambitious fundraising effort to date, aiming to raise $250 million to support nine strategic directions in a bid to cement their position as Canada's Next Generation university.
The first video we created for Concordia focused on the university's cutting-edge researchers and their work and was shared widely in January. The second video, which was released in mid-February, highlights the importance of philanthropy and why donating to education means an investment in our future. While filming, we had the chance to interview many of the Campaign's co-chairs and long time donors including Andrew Molson, Lino Saputo, Mutsumi Takahasi and Andrew Desmarais. This was the latest of more than 30 videos we have produced for Concordia in recent years and we look forward to working with them to craft many more!