"Arm Nation" Goes Worldwide
It took a while but we think it was worth the wait! Our 13 x half-hour arm wrestling documentary series Arm Nation has just been released outside of Canada. Now Amazon Prime subscribers in the United States, New Zealand, Australia, Canada and the UK can catch this entertaining series on Amazon's video streaming service – and isn't this a great reason to start your free 30-day trial?!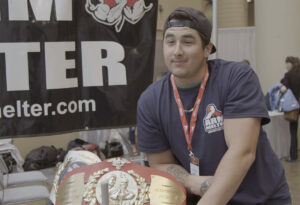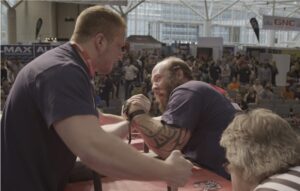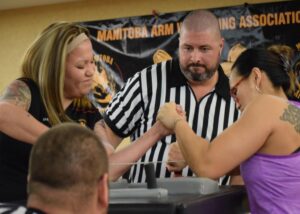 The engaging arm wrestling documentary series, produced for APTN, tracks a dozen passionate, dedicated arm wrestlers, as they strive to become the best of the best in their weight class. Their situations are gripping as they rise through the ranks: a former competitive strong man learning that brawn isn't enough to win in this sport,  a mother of three trying to spread her arm wrestling enthusiasm on her rural Indigenous reservation, and a former world champion struggling to get back to the table after two years away fighting cancer.  The camera follows these and the other featured athletes over eight months, with cameos from Internationally known stars in the sport Devon Larratt, Heidi Cordner, Mike Gould, Jeff Dabe and Josee Morneau.  It culminates in the fierce competition of the Canadian Arm Wrestling Championships. The stark ups and downs as they try to balance their regular lives and the sport they love bring the intense drama to this series.
To view the series on Amazon Prime : https://amzn.to/2u5LT5a
To view the series on Lumi (Canada only): http://bit.ly/2tNP5T2
For More information on the series : www.armnation.tv