What to Expect • Contracting a Video Production Company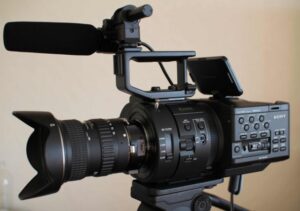 Are you getting quotes from several different companies? Having a hard time choosing that one video production company you want to work with on your promotional video?
So what should you expect to see in a contract with your chosen video supplier? What's standard and what's not? Here is a quick guide to what should be in the contract – and what shouldn't.
A detailed quote
A breakdown of the costs of your project should be provided by the company. There are 3 phases:
Pre-production (the research and scripting phase)
Production (the filming)
Post-production (the edit)
Some companies might break items down into daily rates per item, or crew member, or an hourly rate – whichever is appropriate for your production. They should also let you know if your shoot requires any special equipment or crew members and what the costs will be for these (i.e. if you're working with models, you may need a hairstylist and/or make-up artist, while certain situations could require two camera operators and two cameras)
Potential cost over-runs
It's not unusual for filming to take longer than expected – anything from a product that won't perform on-camera to a nervous on-camera interviewee can add on extra time and possible over-time crew costs. And during the editing phase, clients can ask for additional, unplanned-for rounds of editing and feedback. The company should let you know of any areas where they foresee additional costs, based on their experience in this kind of project. These potential changes and charges should be discussed and then noted. Information on how these will be dealt with as they arise should be outlined in the contract.
What's the plan?
Heading into production without a plan is like journeying into the wilds without a map or a GPS. You're bound to get into trouble. A production company should always include a detailed production calendar with the contract. This should give a clear overview of the major milestones and the steps that will happen along the way to get to them. This should come with a clear explanation of each milestone and dates. And it will also highlight moments when you, the client, will need to provide information or feedback, and the time frame in which that feedback needs to arrive to keep the project on time and on budget.
The terms
It's standard for production companies to ask for 30-50% on commencement of the contract, and the rest on project delivery. If it is an especially large project, the payments may be broken into three instalments.
Usually, a video production company will do 'work for hire'. This means that the production is owned by the client. A production company should not put their own logo on the video unless they've worked out a special deal with you. The client will own full distribution rights, though a production company may ask permission to use a clip-on their demo reel or website as a sample of their skills and work.
Signing off
Before you sign up with a company, it's perfectly within reason to ask for a list of past clients and references. A company that is proud of their past work and has happy clients will be pleased to provide that info.
Have any other questions about the contracting process? Contact us and we'll be happy to walk you through it.
This post was inspired by an article written by Jeff Pelletier at Basetwo Media.