6 Tips to Create Language Versions of Your Videos
o
To take full advantage of international business opportunities, your marketing messages often need to travel around the world. Your business may already be translating promotional and sales texts, but "versioning" a video is a more complicated beast. Therefore, it's important to work with a production company that has versioning experience to avoid cultural gaffes and keep your costs in check.
1. Cultural Gaffes:
The scripting stage is where cultural sensitivity should be built. If you go with an on-camera presenter, it's important to make sure that he or she is dressed appropriately for other regions. Also, you may need to consider that some shots or scenes may not play the same in other parts of the world. Your producer may advise that you 'double-shoot' those sequences with an alternate version to edit into some other language versions. So, he or she can help you make these kinds of content choices before production begins.
2. Go Pro:
It might be tempting to want to save costs by asking a native language speaker in your circle to take on the versioning job. But just as you probably wouldn't ask an engineer to do the company's books, your video won't be best served by asking just anyone to translate and voice your various language versions. Whether your message is about safety or selling a product, it needs to be professional and flawless. The grammar must be perfect, the phrasing idiomatic and the meaning crystal clear. A forgotten accent or a wrong turn of phrase can totally change meaning – and damage your business's credibility!
3. Go Experienced:
It's important that your translator is as familiar with video and film production as they are with the culture and language of the target audience. Subtitling is a trained skill that most translators do not have. They need to know how much text can comfortably go on-screen so readers can keep up and enjoy the video. Therefore, a seasoned production company will ensure that its translator is experienced in versioning and subtitling.
4. Go Beyond the Literal:
Translating a language often lengthens the text by about 20%. A skilled translator will adapt the text so the new translation fits into the original video's length – avoiding the need to make the video longer and the extra editing fees that would entail. However, sometimes companies don't want a single sentence sacrificed. In cases where the client feels it's important to closely mirror the original version, additional shots and scenes may need to be added to the video. It's a more demanding process, which will likely add some costs to the budget. This is a great time to speak with your producer to see which options are best for your product.
5. The Tech Check:
For productions with complicated technical content, the versioned script should be reviewed by someone knowledgeable in the subject matter and the second language, before recording. It's a chance to make sure complex ideas and technical information get properly conveyed.
6. Sounding Pro:
Finally, hiring a professional narrator or voice-over actor for each language version will not only sound most polished but will also give you a final check. So he or she will be able to catch any missed or unresolved language issues at recording time.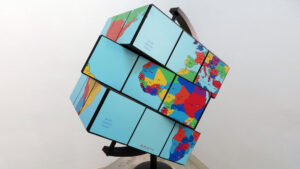 How Much Does It Cost?
If you follow these steps, creating multiple language versions will offer considerable savings over an entirely new language version. To plan your budget, you should calculate an additional 15-20% of the cost of your video's total budget for each new language version. So what's included? The amount includes transcribing your video for the translator, the translation and subtitle creation fees, the editor's subtitle placement fees (if you're going the subtitle route), or auditioning, hiring and recording a voice actor, then placing the voice in the edit suite. Part of the price includes recreating the on-screen titles and worded graphics in another language.
Would you like to incorporate language versioning in your upcoming or pre-existing film? We've versioned in over a dozen languages, including French, Portuguese, Spanish, Mandarin and Inuktitut. Contact us to find out how to plan your next project.